A rather boring first week of the NBA playoffs was salvaged by three teams saving their seasons for the time being by winning game 3 on Thursday. Now all 8 first round series head into high gear this weekend. What is on store, GDB is here to take a closer examination.
Friday's Games:Detroit @ Philadelphia, 7pm.
This is the game that will decide if the Pistons
are serious about eliminating the Sixers quickly. They blew them out of the water in Game 2 after half-assing it in game 1. They have to realize that the number 1 rule for a favorite in a playoff series is to prevent the underdog from believing that they can beat you. If the Pistons come out tonight and shut down the Sixers, this will probably be over in 5. If the Sixers can ride the momentum of a rabid home crowd and get a win, then all bets are off. The Pistons usually show up in the games they have to win, and I get the feeling that they really want this one tonight
GDB Prediction: Pistons 96-91New Orleans
@ Dallas, 8pm.
No team looked worse in the first 2 games than the Mavs. Chris Paul abused Jason Kidd worse than Jason Kidd abused his ex-wife, and Dirk got hoed on national television by David West. I guess they can look forward to coming home, where they've beat the Hornets 13 times in a row, but it just seems like this team is sick of playing with each other and playing for Avery Johnson. They will probably come out fires raging tonight and win, but Chris Paul is simply too dominant to allow the Hornets to lose again. Mavs win tonight, and then go meekly into the night.
GDB Prediction: Mavs 109-96San Antonio @ Phoenix, 1030pm.
If anyone wonders why the Spurs have won 3 titles in the last decade, just watch the second half of game 2 against the Suns. Not only did Tony Parker and Manu Ginobili r
un circles around the Suns, but the Spurs seemed to break the will of the entire Phoenix team. There is no doubt the Suns have the talent to beat the Spu
rs the next 2 games at home, but there seems to be some sort of mental block standing in the way. I thought Shaq would break that when he arrived, but it somehow still exists. The good thing for Suns fans is that soft players play much better at home then on the road, meaning Diaw and Barbosa should play well tonight. I picked the Suns to win this series, and i still believe they are good enough to win all the home games in the series, but there is no chance they have the mental fortitude to win a game 7 in San Antonio. Tonight is desperation time, and they will win.
GDB Prediction: Suns 104-92Saturday's GamesOrlando @ Toronto, 300pm.
The Raptors got off the mat and scored a huge victory last night over the Magic. Much of this can be contributed to Jose Calderon, who is the best point guard in the league that no one knows about. Its no coincidence that the Rap Show plays their best with him distributing the ball on offense, yet for some unknown reason TJ Ford still starts and inevitably bogs down their offense with his ball-hogging. If Calderon gets good minutes, he will tear Jameer Nelson apart and lead the Raptors to another victory. Game 4 will be a good signal of how good this Magic team is. If they come out and take care of business they have to be considered legit. But if they let the Raptors dominate them again, then they have no chance of winning over either the Celtics or Pistons, let alone getting out of this series alive. Frankly i don't think they are ready to put the Raptors away, leading to a very long first round series.
GDB Prediction: Raptors 107-102LA Lakers @ Denver, 530pm.
This is going to be such an awesome game. Kobe basically punked the entire Nugs roster on Wednesday, but will head to Colorado for this one,
a place that holds special memories for him. The crowd is going to be ruthless towards him, and the thug-life Nuggets are going to throw the kitchen sink at him and the rest of the Lake Show to prove that they are still the toughest group of ballers in the league. If you want to see a playoff game with some intensity this is the one for you. Kobe is either going to try too hard and end up alienating his teammates in the game, or he's going to play at a Jordanesque level and silence all the Laker Haters in Denver. The Nugs play no defense, but the Lakers have struggled defensively on the road, which means the Nugs will be able to play the type of game they like. Kobe will probably score near 50 again, but one man can't win this game, Nugs take game 3.
GDB Prediction: Nugs 118-103Boston @ Atlanta, 8pm.
All that bogus talk of the Celtics winning 70 games was ridiculous, but this team does remind me of the Bulls in one way. They are cold-blooded and will not miss the chance to eliminate an inferior team as quickly as possible. This is obviously attributable to the The Big Ticket, who is the most enjoyable player to watch in the league this side of CP3 because of his legendary intensity. The Hawks tried to man up against the Celtics this series, but insulting the crowd and cutting faux-hawks into your head isnt enough to stop this Celtics squad. Look for half of the "Highlight Factory" crowd to be wearing green, and look for another dominant Boston performance.
GDB Prediction: Celtics 97-82Houston @ U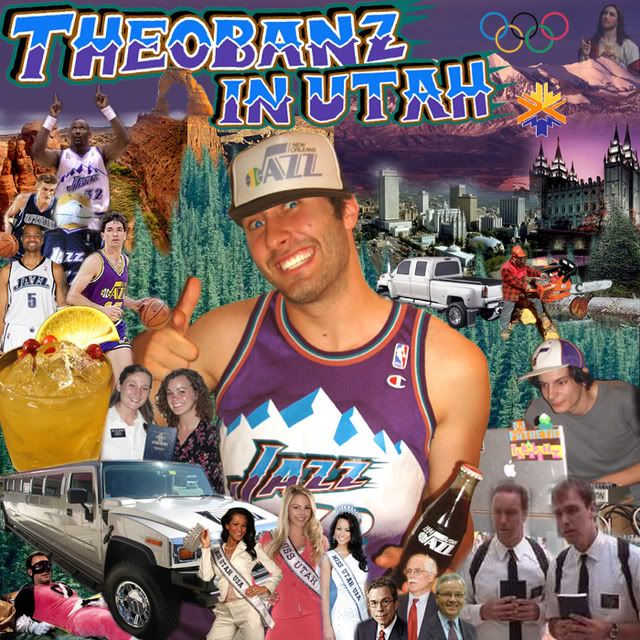 tah, 1030pm.
Last night's result certainly caught Young Swole off guard, but looking back in hindsight I should have noticed the Rockets ability to win such a huge game. No team has played with more intensity this season in spite of so many injury setbacks, and it seemed like they wanted last night's game more than the Jazz. Game 4 is going to be a different story. Its going to be hard to match that level of desperation again, and the Jazz are going to do everything they can to shut down this Rock Show uprising before something serious gets started. Jerry Sloan will have his team ready to dominate and the Jazz will win in the lock of the weekend.
GDB Prediction: Jazz 111-93Sunday's Game:Cleveland @ Washington, 1pm.
Look I admire it when players aren't afraid to stand up to superstars, but good lord has DeShawn Stevenson made it hard to root for the Wiz
ards in this series. Between his yayo dance, bringing American embarrasment Soulja Boy to the game, and his hideous beard, Stevenson has turned into an even more annoying version of Bruce Bowen. And while you could count on Bowen to at least provide good defense in big games, does anyone really doubt the fact that Stevenson is going to completely dissapear when the stakes is high? I'd bet my life savings that he's going to put up a 2-13 brickfest in an important game later in this series while Lebron rips out his soul and eats it like how Marwan destroyed the seafood buffet in Myrtle Beach last spring. Game 4 will probably be the closest game of the series, and in close games i am going with King James, and not wack ass DeShawn Stevenson.
GDB Prediction: Cavs 91-88