Yesterday was yet another shocking encounter at Euro 2008 as the young Russians knocked off the Netherlands in an epic match. The world was introduced to Andrei Arshavin, who reminded me of a Russian Messi, and it seems as if a golden generation of Russian soccer is about to emerge. Onto today, in which the final quarterfinal features two of the blue-blood soccer nations in all the world, Italy and Spain. Losing is not an option for these squads, yet one will go home from the tournament dissapointed and forgotten. Lets take a look to see how the squads match up.
How they got here: Spain has looked like one of the dominating squads of the tournament, running roughshod through Group D thanks to superb technical play and the superhuman abilities of David Villa. There has been little controversy in the Spanish camp, and they are entering the knockout stages as perhaps the most confident team in the entire tournament. On the other hand, the Italian journey to this point was much more interesting, as I guess we should have expected. First they were demolished by the Netherlands, then they barely managed a tie against Romania and finally beat a woeful France side. But they have made it to this point, and you can never dismiss Italy in any circumstance at the knockout stages.
Possible Starting 11's:
Italy
G - Gianluigi Buffon
D - Gianluca Zambrotta
D - Giorgio Chiellini
D - Christian Panucci
D - Fabio Grosso
M - Daniele De Rossi
M - Massimo Ambrosini
M - Mauro Camoranesi
M - Simone Perrotta
F - Antonio Cassano
F - Luca Toni
Spain
G - Iker Casillas
D - Sergio Ramos
D - Carlos Marchena
D - Carles Puyol
D - Joan Capdevila
M - Marcos Senna
M - Andres Iniesta
M - David Silva
M - Xavi
F - Fernando Torres
F - David Villa
Tactics Board:
In previous years, this would seem like a perfect opportunity for Italy to play their notorious "Catenaccio
" defensive style, but the circumstances are setting up that said option may be impossible to employ. Between suspension and injury, Italy will be missing four regular starters, and the resulting substitutes are simply not good enough to hold off such a lethal attacking force that Spain has. We have already seen unexpected weakness in the Italian defense this tournament, and they may now be facing the best offense they have seen all tournament long. Italy's biggest advantage is probably in that their two wide defensive backs, Zambrotta and Grosso, are both excellent at going forward and supporting the offense. Spain, meanwhile, will try once again to control the ball and create chances through their midfielders. Their defense has been suspect at times as well, but they do have the height and strength to match up well with Italian striker Luca Toni.
3 Important Subplots to watch:
1. Can Italy hold their own in the midfield? With both Gennaro Gattuso and Pirlo out suspended today, the Italians are going to have to start some players they generally wouldn't. T
he big problem is that the Spanish midfielders are so technically strong and gifted that they could easily control the game and open up the Italian defense for Villa and Torres if the Italian midfield can't keep them under wraps. All of this means that the most important player on the field for Italy today will be Daniele De Rossi. He will have to be a bull in midfield and not let Xavi and Silva to have free reign to spread the ball around. De Rossi had a very good game against France and seems to be emerging as the next great Italian midfielder, but today he will have to play the game of his life if Italy wants to emerge victorious.
2. Which wingback will have a bigger impact on the game, for better or worse? Both of these teams feature fullbacks who love to run forward and join the offense. Italy's tournament was transformed when they inserted Grosso into the lineup thanks to all the chances he has created, and today he will
be even more important in the offense because of the players out in the midfield. Gianluca Zambrotta also loves to move forward on the right, yet has been prone to disastrous mistakes. Similarly for Spain, Sergio Ramos is always moving forward, yet has made some awful decisions in defense. Quite simply put, mistakes by any of these three players could prove deadly because the strikers for both squads are too good to be given extra chances. Will this fear of a great mistake reign in the defensive backs or will they still throw caution to the wind and move forward?
3. Is Spain mentally ready to move forward in this tournament? So many times in the past, Spain has had a supremely talented team that goes home much earlier than what you would expect. Either through bogus referee calls like against Korea in WC 2002 or from shit-the-bed performances, Spain has earned the reputation of a mentally fragile squad who sooner or later will crash and burn in major tournaments. Today would seem a perfect chance to exorcise these demons with them facing a depleted Italian team while being themselves probably the most gifted team remaining in the field. We'll probably be able to tell in the opening minutes which Spain has shown up. Is it the squad that is all too familiar of their past and expects the inevitable failure to happen, or is it the Spain that realizes just how damn good they are and that Italy really doesn't even belong as the same field of them?
Prediction
Every group winner has already been eliminated in the knockout stages, which does not bode well for Spain. And despite all the warning signs regarding Spain's history, I have the feeling that this is the squad that actually comes through on all the promise that is inherent within the team. Spain is never going to face a weaker Italy, and is never going to have better plays to attack these weaknesses then they will have today. I was dead wrong yesterday with the Netherlands within the first 15 minutes when it was obvious that the Russian speed and tenacity would not let the Dutch get into their customary rhythm, but Italy is an older team with visible deficiencies in its midfield which should allow Spain to play the game that they are so good at. And with the form that David Villa is in at the moment, I don't see how Spain does not exploit a mistake-prone Italian back four. I'm going to go against the country of my heritage, but I honestly can't see a way they can win this game if Spain plays how they have been, and how they should continue to. Spain wins decisively 2-0, setting themselves up a rematch with the diabolically emergent Russians.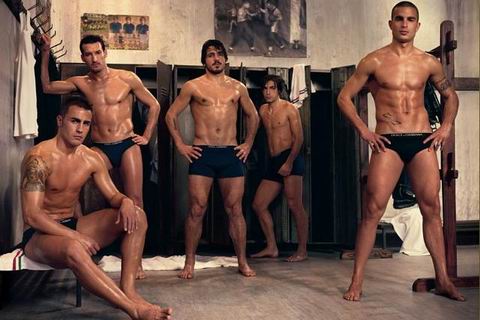 *The above picture was included for my mom, who requested it be a part of the preview.
No Homo