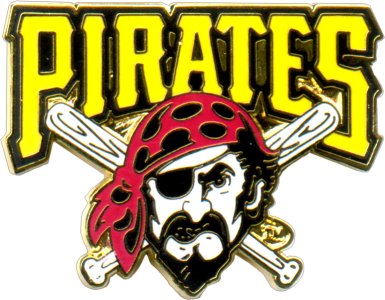 Well it looks like another long year in the Three River City. For what has been one of the worst baseball teams in the entire league there appears to be no immediate hopes of contention. Between mismanagement by the front office and the failure of many promising young players to contribute, the Pirates have been a last place mainstay for years. Will '08 be any different?
2007 Finish: 68-94, last place in NL Central
Key Additions: Doug Mientkiewicz 1b, Jaret Wright SP
Key Subtractions: Cesar Izturis SS, Salomon Torres RP
Projected Lineup:
1 - Nate McLouth CF
2 - Jack Wilson SS
3 - Freddy Sanchez 2b
4 - Adam LaRoche 1b
5 - Jason Bay LF
6 - Xavier Nady RF
7 - Jose Bautista 3b
8 - Ronny Paulino C
Lineup Grade: D... There's nothing this lineup does well. There is zero power outside of the 4 through 6 hitters, only Freddy Sanchez hits for a high average and there is little to no consistency from day to day in run production. Simply put, this is one of the worst offenses in baseball.
Projected Rotation:
1 - Ian Snell
2 - Tom Gorzelanny
3 - Paul Maholm
4 - Matt Morris
5 - Zach Duke
CL - Matt Capps
Rotation Grade: C-... The Pirates have some young arms with potential in Snell and Gorzelanny, but overall the starters do not have the talent to carry the anemic offense. Matt Capps quietly had a nice year as the closer last year but there isnt much to write home about behind him. A good year for this staff would be a top-10 finish in ERA in the NL.
2008 Outlook: I feel bad for Pirates fans because the outlook is so bleak. The only way they can really build this team to be competitive again is through minor league prospects, but their track record in developing players is highly dubious. I guess the only silver lining I can provide Pirates fans is that teams like the Detroit Tigers were pretty much in the same boat as the Buccos just a few years ago, but have turned it completely around. To do that will take time though, and probably require an organizational restructuring. Maybe local boy Mark Cuban will buy the team now that the Cubs are not an option and pay the money required to field a competitive team, but for now simply staying out of last place would be mean a succesful year.
Projected Finish: 61-101, last in the NL Central